With a focus on enhancing and celebrating the alluring flavours and textures of the pig (and nothing but the pig), our classic hog roast menu has become somewhat of a cult favourite since first being introduced at the time of our inception – which was almost thirty years ago now! Can you believe it? Since then, it has become a go-to feast for both spit roast enthusiasts and newbies, making it one of the most popular menus we have on offer here at Hog Roast Stowmarket by a longshot.
One client who was eager to treat her guests at the Stowmarket Meadlands Recreation Social Club opening party to this meaty menu was Jackie, who recently approached us with her booking request.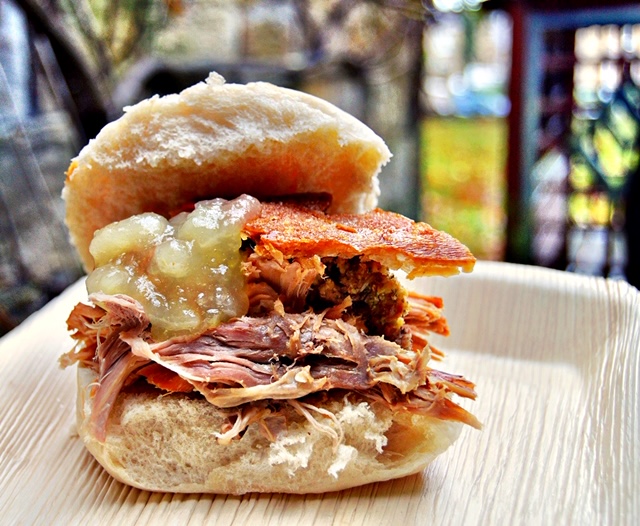 As you might have already guessed, Hog Roast Stowmarket was ecstatic to be included in this long-awaited celebration, and, after assuring the client that our menu would be a real crowd-pleaser, the team set to work on making preparations for the day.
Our chef, Rod, was in charge of cooking the irresistible spread for the group of 100 guests, and having chosen a mid-size pig especially for the occasion, he, along with the rest of the catering staff, headed off to the Meadlands Social Club hours before the 1 pm serving time. Upon their arrival, they worked tirelessly to set up the cooking equipment and serving tables before making a start on the glorious feast.
After lifting the pig into one of our esteemed HogMaster machines, Hog Roast Stowmarket scored the skin and coated it with a layer of salt (this is our secret to how we create the perfectly crisp crackling with lots of air pockets that we are famous for!) before surrounding it with sage and onion stuffing. As the meat cooked over the low flame, turning a warm golden brown colour, the juices dripped into the stuffing, enhancing the flavour and filling the venue with a heavenly fragrance that didn't go unnoticed by the arriving guests!
The finishing touch to the tantalising feast was our freshly made applesauce, which, when combined with the pulled pork, crackling and stuffing on wholemeal and gluten-free rolls, made for a truly divine feast that went down well with everyone who attended.