Whether you are an enthusiastic amateur chef looking for a stress-free yet impressive and cost-effective DIY catering option for an event, or you are a professional caterer who is keen to branch out into the rewarding field of hog roast catering, we have the perfect solution for you. Hiring one of Hog Roast Oakham's advanced hog roast machines is guaranteed to tick all of your event catering boxes without the commitment of investing in a machine of your own. The technique of slow roasting and spit roasting meat dates back centuries and this atmospheric and sociable style of catering is perfect for any party. There is always something special about cooking outdoors and the heady aroma of delicious meat filling the air after it has been cooking slowly for several hours is bound to be a big hit with your guests. What's more if you hire a machine from us, you can savour this experience without having to worry about the practicalities of cooking outdoors without easy access to a kitchen. Our self-sufficient, gas-powered catering equipment doesn't require any external power supply, our robust, yet compact machines can be set up and used at maximum efficiency just about anywhere, and depending on your requirements and the model you hire, you also have the option of simultaneously cooking a range of vegetable and potato dishes too. What more could you want from a piece of cooking equipment for any outdoor event.
Market-leading equipment
So, what are the advantages of hiring a machine from Hog Roast Oakham? Firstly, if you will benefit from using the most advanced hog roasting equipment available on the market. In addition to offering our own comprehensive and creative event catering packages, we also design and make our own equipment at our UK workshop. We channel our extensive hog roast catering experience into manufacturing the most effective and efficient machines in our field. This side of our business has now become just as successful as our catering services, as demand for our superior product continues to grow. Because you will be using a piece of equipment that has been designed by a team who know everything there is to know about hog roast catering, you will find that every component is crafted with functionality and usability in mind. Our reliable and intuitive machines are able to produce perfectly cooked meat every time, regardless of how experienced the chef is.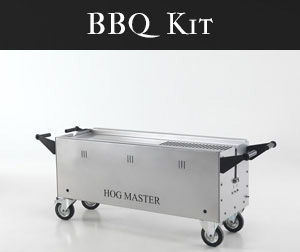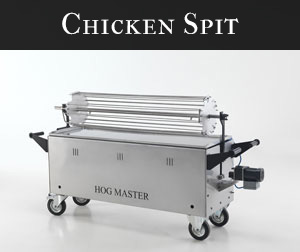 Superb results with no experience necessary
Because of how user-friendly our machines are, they can be operated by both experienced catering professionals and novice chefs with an equal level of success. If you want a hassle-free way of wowing your dinner guests, hiring one of our cutting-edge machines is the best way of achieving it! Even if you have never catered for a party before, you will be able to achieve incredibly impressive results with the minimum of effort, which is of course, the dream scenario for anyone who is doing their own event catering! You can trust our hog roast machine to do its thing without you having to constantly stand over it, leaving you free to be a good host and focus on your guests, and enjoy your own party safe in the knowledge that you will soon be treating everyone to some moreish, melt-in-the-mouth meat, and if required, some scrumptious side dishes too.
Expert knowledge and advice
From the moment you make your initial enquiry, the Hog Roast Oakham team will make hiring a machine from us as easy and straightforward as possible. We will draw upon our extensive knowledge to identify the ideal machine for your needs, based on your catering requirements, the size of your event and your level of experience. Our fleet of machines vary in size and function, allowing for total flexibility in what you can cook and how you would like to prepare it. Slow roasting is equally well suited to a range of different meats, not just pork, so whether you fancy spit roasting whole chickens instead or you would like to cook a large batch of jacket potatoes at the same time for example, we will have the perfect machine for your needs and what you want to achieve.
We will also give you comprehensive information and guidance about how to safely and successfully operate the machine you have hired. We will deliver it to your venue and spend as much time with you as you need until you feel totally confident about being at the helm yourself. What's more, to make life even easier for you, we will pick it up again afterwards and take care of cleaning it for you. If you would like to get the best quality meat that you can but you aren't sure where to source it from, we can take care of that for you too. We can provide you with some top-quality ethically reared meat sourced from our own supplier, whose standards are just as high as ours.
If you would like a quote for hiring a hog roast machine or you want to find out more about our range of equipment, take a look at our machines page on our website or get in touch with us here at Hog Roast Oakham, and we will be only too happy to help!