What do open-air cinemas have that their indoor counterparts do not, I hear you wonder? Well, for starters, room to stretch your legs, a great view of the big screen and, when we're involved, a sumptuous hog roast to sink your teeth into! Yes, you read that right, and recently Hog Roast Stamford was invited to partner up with The Luna Cinema, a.k.a. the country's leading host of outdoor cinematic experiences right now.
Charged with finding a reliable caterer for the night, the client, Hannah, had placed a booking with us almost immediately after being given the green light to host their event at what can only be described as a very special venue: Sandringham Estate.
If you don't know, this historical landmark is a favourite countryside haven of Her Majesty The Queen's. In fact, the estate has belonged to the royal family since 1862, and since then, it has been a private residence of theirs for four generations. So, for us, being able to cater to an event here was a fantastic opportunity, to say the very least!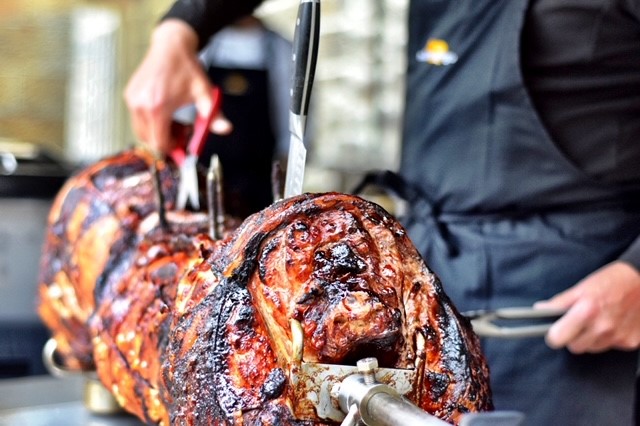 With 140 guests looking forward to the outdoor showing of The Greatest Showman, Hannah had asked the Hog Roast Stamford team to whip up something special for the occasion. And after hearing some suggestions from our catering manager, Byron, she opted for our crowd-pleasing private party menu 3.
On the day of the event, Byron and a handful of Hog Roast Stamford's best caterers had arrived at the venue in the late morning, where they were invited to set up our cooking equipment and serving tables in the picturesque walled gardens, which were adorned with ivy-covered red-brick pillars, immaculately trimmed hedges and lively flowerbeds.
Their time spent slow-roasting the pork and grilling the veggie skewers (some with halloumi and some without) flew in, and before long, Byron and the team found themselves piling the fork-tender meat into gluten-free rolls with crackling and applesauce, pairing the kebabs with tzatziki dip and flatbreads for veggie and vegan attendees and then serving the tasty creations to the guests on our eco-friendly bamboo crockery.
Hannah was impressed with how quickly and efficiently our team managed to serve all 140 guests before the film started, and the guests themselves were amazed by the irresistible flavours Hog Roast Stamford had created.