After lockdown restrictions forced them to postpone their big day not once but twice, it really was the third time's the charm for lovebirds Jessica and Billy, who finally got hitched last weekend after what felt like a very long wait!
As you might have already guessed, Hog Roast Ashwell had been hired to manage all of the couple's catering needs on this incredibly special day. And, as always, our catering manager, Byron, did a magnificent job of easing the pair's fears ahead of the celebrations. In response to their rescheduling needs, too, he ensured everything ran smoothly and was as stress-free as possible for the duo, which they were extremely appreciative of.
Fast forward to the day of the wedding, the Hog Roast Ashwell team showed up at the venue, a stunning manor house surrounded by gorgeous countryside vistas, with loads of time to spare before the wedding party arrived. This gave the team enough flexibility to prepare Jessica and Billy's chosen menu, the equally elegant and refined: wedding menu 4, as well as to set up the dining furniture and marquee.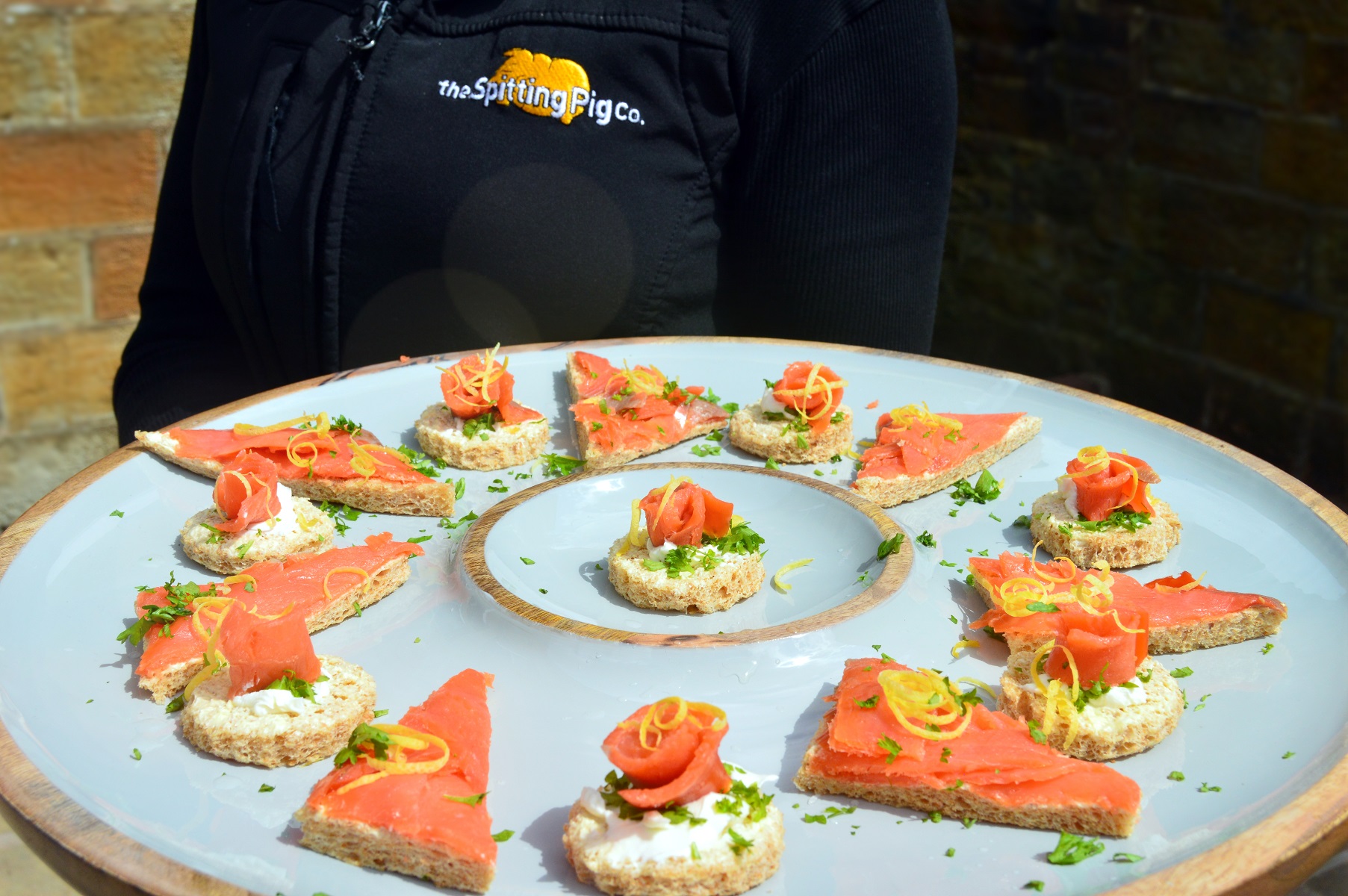 With a selection of delicious canapés, two main course options, a plant-based alternative, side dishes and a dessert to prepare, Hog Roast Ashwell had no time to waste. So, after quickly setting up the catering gazebo and dining tent, they launched themselves into the lengthy cooking process, which firstly involved brushing the sirloin of English beef with mustard and rubbing the chicken with sea salt and rosemary before leaving them to slowly sizzle in the HogMaster for hours. Meanwhile, they focused on the canapés of quiche, smoked Scottish salmon, roasted duck, pan-seared fillet of beef and roasted halloumi and tomato crostini, which were individually arranged and placed on trays for waiting staff to serve to the guests as they arrived.
The aromas that had filled the air were sublime, and Jessica and Billy both looked very impressed with the dishes laid before them, which Hog Roast Ashwell promptly served to each table. And with everyone happily munching on the main course and digging into the sides, Byron and the crew were able to focus on plating up the cheesecake, profiteroles and slices of wedding cake for dessert.