With a lack of new models being made available and rising costs leading to an increase in demand for second hand motors across the UK right now, business for those in the used cars industry is booming. But with so many car showrooms out there for shoppers to choose from, competition among these dealerships is rife, and few people understand that better than Callum.
As the proud owner of his very own second hand cars garage, Callum was looking for a way to get his business into the public eye and boost sales. So, he decided to host an open day event after hearing that these functions can be a wonderful way of creating lasting bonds with local residents and therefore put his little garage on the map.
Like any event, open days benefit greatly from the addition of good grub and knowing how especially popular Hog Roast Egleton's divine spit roasts are, Callum, asked our team to help out. Having handled several of these kinds of events in the past, our catering manager, Byron, was perfectly equipped to cover the corporate event that Callum had in mind, and his professional and positive approach filled the client with confidence that the day was going to be a smash hit – and he was right to believe in us!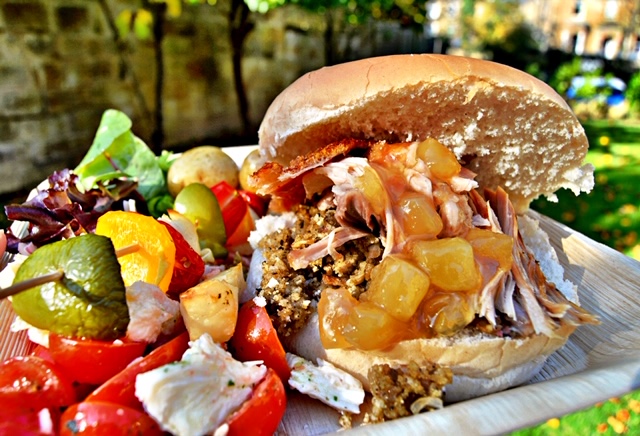 On the day of the event, Hog Roast Egleton rolled up to the venue, which Callum had decorated with brightly coloured balloons, bunting and inflatable air dancers. After greeting the client and asking where to pitch the hog roast gazebo, Byron and the rest of the caterers set to work on preparing a wondrous spread of gluten-free rolls stuffed with shredded pork, crackling, savoury stuffing, applesauce and salad. They also prepared a tray of grilled vegetable skewers with tzatziki dip and flatbreads as an alternative for non-meat-eating attendees.
Callum was delighted to see that soon after the food was ready, locals began to arrive, and many of them showed an interest in the available cars on his lot. They also loved the food that Hog Roast Egleton served, and were thrilled with the bouncy castle and face painting entertainment options that kept the kids busy whilst the parents shopped the range of motors!