Hog Roast Bisbrooke's latest event was a very special wedding. Clients Geri and Paul contacted the team about catering their wedding as soon as they saw the Southern Slow Roast Menu on the company website.
The happy couple clients were thrilled when they contacted the Hog Roast Bisbrooke team and had it confirmed that their wedding buffet could have an all-American style and flavour. Geri and Paul worked closely with the team to tailor the menu specifically to their requirements and their budget, so that they could have the Wild West American wedding of their dreams.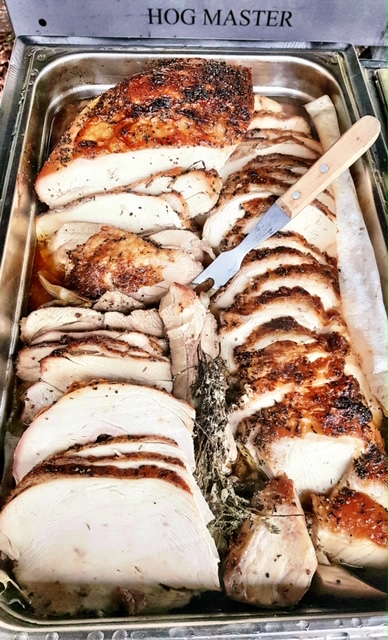 As part of the catering package the Hog Roast Bisbrooke team provided not only the disposable crockery and cutlery for the 15 guests to use, but also a Chef to cook it all fresh. Chef Byron was given the task of creating the buffet.
Experienced and friendly Chef Byron arrived at the Barn venue several hours before the 4pm serving time. This gave him plenty of time to create the flavourful buffet.
The buffet was ready for 4pm on the dot. The guests were greeted by the delicious aroma of foods that would delight their taste buds.
Clients Geri and Paul's favourite part of their wedding buffet was the meat dishes, there was: BBQ Pork Butt, Cajun spiced whole roast chicken and Fall off the bone Sticky Louisiana Pork Ribs. These three meaty treats had a choice of three optional sauces, one of which was not for the faint hearted! Also on offer at the buffet was heart Mac and Cheese, Memphis Style crunchy coleslaw and a Fresh Green Leaf salad. Finally, finishing off the buffet was lots of piping hot jacket potatoes and an assortment of soft rolls and wraps.
The guests were thrilled and tucked in with great eagerness. There were smiles all round!
After the food had been enjoyed Chef Byron quietly tidied away. All the rubbish from the catering, including the used crockery and cutlery, were gathered and disposed of safely by the team.
It was a wonderful, happy event that the team felt delighted to have been a part of.