As we all know, the 23rd of April is a very special day here in England. Celebrating the life and legend of Saint George, our patron saint, who is famous for taming and slaying a ferocious man-eating dragon some two thousand years ago, this annual holiday calls for parades, dancing and lots and lots of delicious food!
And with the festivities back on this year, Hog Roast Ashwell is very much looking forward to a fantastic day spent surrounded by good cheer from exhilarated Rutland locals, who, thanks to our client, Stephen, are set to pig out on one of our mouth-watering slow roast menus.
The client has put together an event for the whole community, and the ticket holders who attend will be encouraged to take part in traditional dancing, swig back a few beers (or juice for the minors), and indulge in a whole-roasted pig with all the trimmings, served, of course, by yours truly.
As you can imagine, our team is extremely excited for this event to take place, and we're even more eager to impress the 350 ticket holders with our scrumptious rolls, which are stuffed with juicy, fork-tender pulled pork, lightly salted crackling, sage and onion stuffing and a spoonful of applesauce to finish.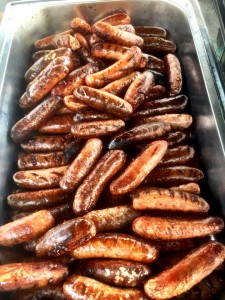 To make sure the vegetarians and vegans aren't left hungry, Hog Roast Ashwell will also be including our meat-free BBQ pulled jackfruit rolls on the menu, as well as handmade 100% British beef burgers and gourmet sausages. A mixture of sweet potato and regular fries, chilled salad options and our homemade coleslaw will be on offer for the guests to choose from, too.
Stephen was so pleased with how quickly our catering manager, Byron, was able to find the perfect menu for this event, and now that the ticket holders are aware of Hog Roast Ashwell's involvement, they are expecting spectacular things on the day! Without tooting our own horn too much, we're confident that when the time finally comes, our team will deliver an experience that surpasses their expectations, and we're pleased to say that Stephen has every faith in us, too!