Hosting a winter wedding is not usually as favoured as a summer wedding, but it can definitely be just as beautiful. While the weather may be dull, it allows you to create a warm theme, with cosy and inviting décor. There is also the possibility of having a white wedding if snow is in the weather forecast, which is the perfect photo opportunity for your big day! Winter weddings are different to summer weddings in many ways, and this is often reflected in the catering choices. Here is how Hog Roast Manton would cater for your winter wedding…
Winter wedding catering is often warming comfort foods and, luckily, this is a Hog Roast Manton speciality! We have many warming starters, including hot soup and roasted duck breast to name a few. There is also the option for a vegan or vegetarian dish for every meal.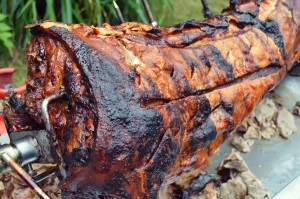 For your main course, we can provide a large variety of slow-roasted meats, including whole-roasted pigs and chickens, as well as lamb, turkey and beef. The meats are served with a selection of fresh bread rolls and wraps, accompanied by your choice of sides, salad options and dressings. We have a side dish to suit every guest, ranging from mac and cheese to sweet potato fries.
The star of your wedding catering is likely to be your beautiful wedding cake, but we also provide a variety of desserts to compliment it. Hog Roast Manton have many dessert options, such as profiteroles, sticky toffee pudding, fresh fruit salad and cheesecake.
The formality of your wedding catering will be dependent on the formality of your event as a whole. We can provide buffet-style catering, formal sit-down catering, a mixture of both- and a meal of each! This is completely down to your catering needs and we can provide something to suit every big day. No two weddings are the same, so no two wedding catering packages are the same either!
Are you planning on hosting a winter wedding? If so, get in touch today to arrange your catering with Hog Roast Manton. All we need to know is your party size, date and location and we can add you to our calendar and begin planning your perfect wedding catering menu. We hope to hear from you soon!