Whether you're preparing to host a family party at home, at a local venue or have a function to plan at work, get a jump start on your Christmas catering today by reaching out to our team here at Hog Roast Caldecott!
When it comes to serving up lip-smacking feasts that your guests will surely swoon over, our catering crew are the best there is, and now that the Christmas party season is fast approaching, we're ready to impress with our Full Festive Menu plan. Combining the nation's best-loved wintertime treats, this dreamy feast is perfect for bringing everyone together this holiday season. Best of all, you won't have to battle it out in the supermarket aisles or spend precious hours in the kitchen worrying about which timer is for what dish when you should be enjoying yourself.
By trusting Hog Roast Caldecott to take care of everything on your behalf (even the dreaded after-party clean-up!), you'll be free to kick back and relax with a glass of mulled wine (made by yours truly, of course) whilst our team work their socks off to produce the tastiest festive feast imaginable.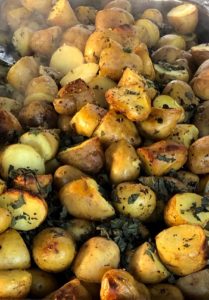 We can offer you a choice of traditional turkey that's both moist and tender, our classic hog roast with crispy crackling, sage and onion stuffing and applesauce or an entirely meat-free option for those veggie and vegan guests you might have. To accompany whichever main course you choose, we've got some tempting side dishes on offer including, homemade cauliflower cheese, pigs in blankets, a medley of seasonal veg, roast potatoes and homemade gravy. For pudding, you can look forward to tasting our handmade traditional mince pies with warm brandy cream and more of that lovely mulled wine (alcohol optional).
We're also happy to customise your chosen dining plan to suit your specific needs, so if do you happen to have any requests, just speak to Byron. He's our catering manager here at Hog Roast Caldecott, and he is well known for always going the extra mile to ensure our customers have a fabulous time.
Go on, treat yourself to a delicious lunch or dinner with Hog Roast Caldecott this Christmas!