At Hog Roast Lyddington, the team believes that presentation is equally as important as delicious food and service. They have developed a professional uniform for different stages of the event.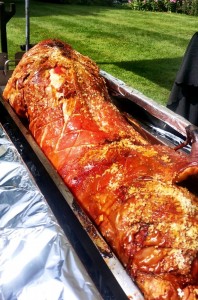 When the team at Hog Roast Lyddington arrives at your event, they will be in a logo polo shirt and smart trousers. They will remain in this attire to set up. If it's a particularly chilly day, they will also be in a logo soft shell jacket or if it's raining or drizzling a logo waterproof jacket.
During the food prep, the team will have changed into chef whites or blacks with a striped blue and white apron on. The striped blue and white apron will be when the team are preparing food items such as the canapés, salads, and any cooked meat.  If they are prepping raw meat, this apron will be red and white striped.
As the serve time approaches, the team will then be wearing the chefs white with a logo black apron. There is an optional black chef's cap that some team members also choose to wear.
For hygiene measures, long hair will be tied up, blue or black gloves will be worn and with the current pandemic a face mask.
At winter events, when the team are serving outside, a black logo hoodie may be worn underneath the jacket so that the team can remain warm.
For weddings, a smart and professional attire is maintained. The head-chef along with their assistant will be the only ones in chef whites. The front of house team such as the waiters and waitresses will wear smart black trousers or skirts, a logo black shirt or blouse and over this a black logo apron.
For any event black shoes are the consistent item.
Over the years, Hog Roast Lyddington has had items added to their uniform by the customer such as wigs, glasses, feather bowers etc. it all makes it that much more fun to fit into the themes of the events!