Rutland residents looking to indulge in a luxurious feast of beautiful meats, garden-fresh salads and more, are sure to be impressed by Hog Roast Empingham's stunning assortment of customisable catering plans that can be tailored to suit every event style for a more than reasonable cost. We also offer a series of veggie, vegan and gluten-free options, meaning you won't have to juggle multiple accounts or correspondences between various catering services. Everything you need can be handled right here by our team of specialists.
In particular, we're positive that you'll find our catering manager, Byron, to be an incredibly welcoming, friendly and efficient leader when it comes to organising and executing your booking; and having been in the mobile catering business for a good number of years now, he has more than a few tricks up his sleeve to make sure your event is truly spectacular.
Recently, our team got the chance to flex their skills at a hen party hosted by the maid of honour, Lisa, on behalf of her bride-to-be best friend, Emily. Having already decided on a grand affair for the celebration, Lisa had planned a day of self-care and relaxation for the group of 30 to be hosted at a beautiful manor house, but the experience wouldn't have been complete without a gorgeous Hog Roast Empingham buffet!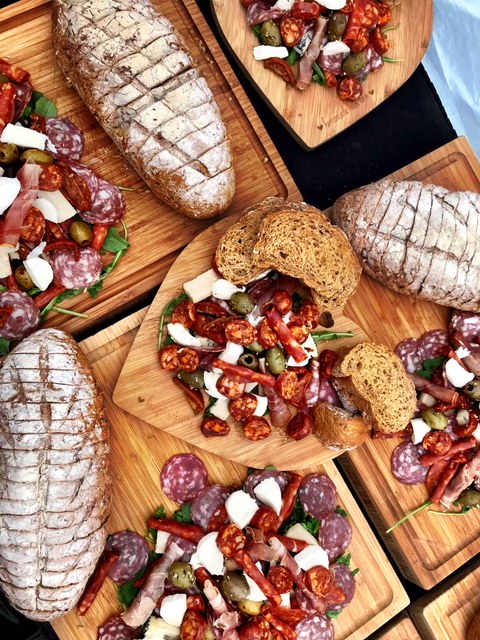 Knowing that the process of preparing our Alfresco Menu would take several hours, the team arrived at the venue early that morning, where they quickly placed the pig in the HogMaster, leaving it to sizzle and spit over real flames for hours before carving it and piling the juicy meat into gluten-free rolls with 'slaw, crackling, stuffing and applesauce. For each one of the tables, the crew had also put together a gorgeous presentation of Italian-inspired charcuterie boards, which offered a delicious combination of deli meats, cheeses, artisan bread, olives and sundried tomatoes; and to finish the feast, they included handmade desserts of individual-sized cheesecakes and rich-tasting profiteroles.
Sometime later, the food was ready to be served, and the guests couldn't believe their eyes when Hog Roast Empingham presented them with the final result! The buffet went down a real treat, and between enjoying the food and getting spoiled with skincare treatments, manicures and time in the spa room, everyone who attended the event had a wonderful time.