Following catering trends not only helps to add a level of elegance and class to your event, but it also impresses your guests and ensures your menu is fresh and exciting. Catering trends are ever-changing, with new dishes coming in and out of fashion as the seasons change. Much like with fashion, some catering trends are cyclical, and others are never out of style- which is great if you have dishes that you just can't get enough of.
Timeless entrees 
Some dishes are never out of style since they are popular classics that are engrained into British dining culture. Timeless dishes include family favourites such as roasted chicken and Hog Roast Oakham's spit-roasted pork. It is always a good idea to serve a classic dish as part of your wider menu since it is an option that is going to appeal to the majority of your guests.
Meat-free dishes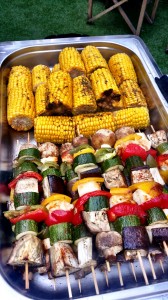 It is essential to always have at least one meat-free option on your menu, to cater for guests with dietary preferences and requirements. However, meat-free is a trend that is on the rise in 2021, with many more guests preferring a plant-based main course. While our name might be Hog Roast Oakham, we still have a variety of vegan and vegetarian catering options, including BBQ pulled jackfruit and roasted vegetable and halloumi skewers.
Reinventing 'fast' food
For many events, such as corporate training and seminars, catering needs to be fast and efficient- serving as many people as possible in a short amount of time. 'Fast' food is no longer limited to plastic-wrapped sandwiches and sad looking salads. We can offer several catering options in this style, such as our fresh, meat-filled rolls and wraps. All of our catering options include nutritious and delicious dishes, with local meats and produce.
Are you looking for a caterer for your 2021 event? We offer a catering package to suit every need, with a dish for every taste. Get in touch with Hog Roast Oakham today to book your date!