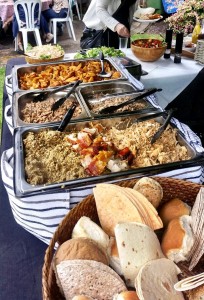 If you want an impressive centrepiece for your event and lots of lovely freshly made food that your guests will love, let Hog Roast Necton treat you to one of our signature hog roast feasts! We are the most prominent hog roast specialists around, with extensive experience of providing superior hog roast dining for a broad array of events in the local area.
Our premium pork is selected from the best UK producers who adhere to strict free-range rearing methods. It is then cooked with care and precision by our passionate hog roast chefs utilising our state-of-the-art hog roast catering equipment. We always cook our meat on-site at every event, which is something that our clients and all of our diners really appreciate. Cooking our hog roasts on-site not only assures everyone just how fresh our food is, it also makes a great focal point for any occasion. Our interactive catering style always makes a welcome addition to every event we are involved in and promotes a sociable ambiance for events of all sizes.
Unbeatable Hog Roast Catering For Any Occasion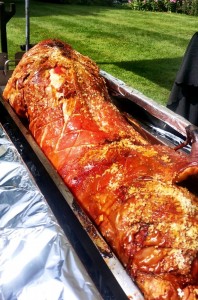 You may be wondering if a hog roast catering company is suitable for your event if it is a special occasion, a smaller gathering or you need to satisfy different dietary needs. If you hire the Hog Roast Necton team to cater for your event, you certainly won't have to worry about anyone going hungry or our style of catering not being suitable for your event! We offer such a vast selection of menus that you are bound to find just what you are looking for. We can prepare diverse buffets and contemporary 3-course meals with the same level of confidence and success that we produce when we are cooking our classic hog roasts. So, if you require a special meal for your wedding reception, a family friendly buffet for a private party or an impressive spread for a corporate event, we are equipped to provide it.
Hog Roast Necton can offer you the best hog roasts in the area and a complete catering package for your event that will tick all of your boxes.